The Indiana Department of Environmental Management, Office of Water Quality is conducting an information session ...
WASHINGTON – Lowe's Home Centers, one of the nation's largest home improvement retailers, has agreed to implement a comprehensive, corporate-wide compliance program at its over 1,700 stores nationwide to ensure that the contractors it hires to...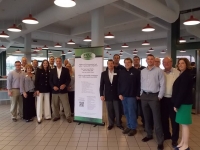 ESSI Celebrating 10 Years! With some people from Evansville chamber!!
Pages