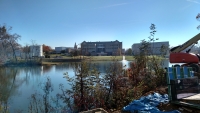 "Beautiful view from the new USI Conference Center currently under construction.  ESSI is providing safety inspections for this project."
I wanted to invite you to the Chamber for Vince Griffin's Indiana Chamber Legislative Preview. The Southwest Indiana Chamber will host the event on Wednesday afternoon, November 18th...
IKGS Meeting Announcement - November 19, 2015 in Owensboro, KY
IKGS Meeting
November 19, 2015  
Location:
Fetta...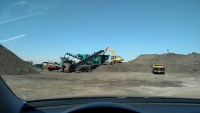 Contact Essi for all of your permitting requirements.  Photo of a recent Method 9 test to satisfy IDEM requirement for industrial customer.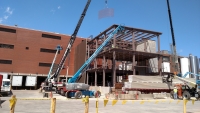 ESSI completes safety oversight without lost time incident.
ESSI was recently retained for a large construction project to oversee safety concerns for steel erection and other portions of the project.   The project was for a large edition...
"The EPA said the new standard of 70 parts per billion will reduce exposure to dangerous ozone pollution and prevent thousands of asthma attacks and hundreds of premature deaths each year."
…"the EPA's long awaited action set up a...
ESSI is pleased to announce that we have reduced  one of our customer's, on the Ohio River, sampling frequencies for their National Pollutant Discharge...
Availability of Informational Webinars for the Water Quality Standards Regulatory Revisions Final Rule
EPA is announcing the availability of an informational webinar series for the Water Quality Standards Regulatory Revisions...
Pages